Transform your next event into a ¡FIESTA!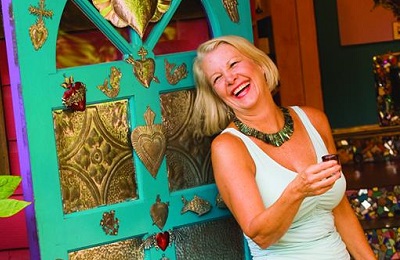 Lucinda Hutson inspires audiences nationwide to turn everyday meals and ordinary spaces into celebrations! She transforms every convention, symposium and reception into a true fiesta with her spirited tales, colorful recipes, and vibrant slideshows.
You won't just sit through one of Lucinda's presentations, you'll go on an adventure. Whether it's traveling with her through Mexico's tequila country…or a journey exploring her gardens brimming with culinary herbs from around the world (with slides so colorful you can almost taste the recipes!), Lucinda will inspire you to make your own life a fiesta too!
An Award-Winning Author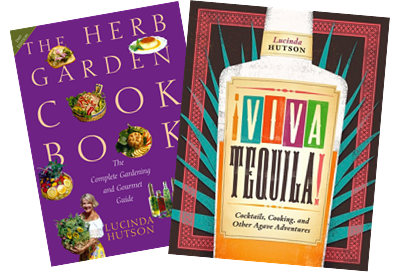 Lucinda writes about a celebratory lifestyle through lively entertaining and design. Her latest book, ¡VIVA TEQUILA!, won "Best U.S. Cocktail Book of 2013" from Gourmand International. And her Herb Garden Cookbook inspires readers to garnish their gardens and plates with color and pizzazz.
Your audience will be delighted with her intimate knowledge of fine tequila, Mexican traditions, herb gardening and recipes, and more.
Featured in Southern Living, NPR, PBS, HGTV, and more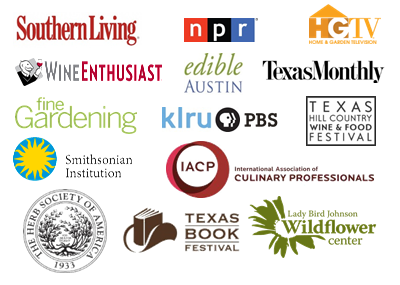 Southern Living and HGTV have featured Lucinda's "Texican" artisan cottage, brimming with whimsical folk art, as well as her seasonal celebrations.
She has also delighted audiences with her intimate knowledge of fine tequila and Mexican traditions on NPR's The Splendid Table, Wine Enthusiast magazine, and many other shows and publications.
An in-demand speaker, Lucinda inspires audiences nationwide, from the International Association of Culinary Professionals to the Texas Book Festival and The Herb Society of America.
Lucinda's Speaking Topics Include . . .
Contact Lucinda to receive a full description of each speaking topic.
HERB GARDEN-to-PLATE ESSENTIALS
Hints, Tips, and Tasty Recipes to Get the Most from Your Herb Garden!
A Garden Fiesta to Remember!
The Ultimate Guide to Entertaining in Your Outdoor Spaces
I Live in a Purple House
How to Transform Your Garden into a Creative Wonderland!
¡Viva Tequila!
A Magical Tour of Mexico's Agave Spirits, Customs, and Traditions
The Basics of Tequila and Mezcal Tasting
Learn to Sip, Shake, and Pair with Flair
Contact Lucinda to receive a full description of each speaking topic.