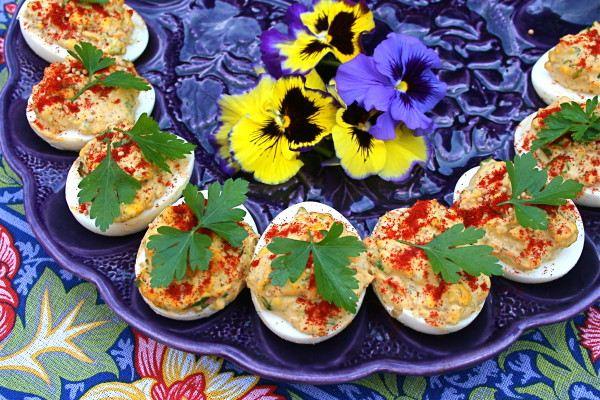 When made with imagination (and spice!), deviled eggs are a welcome reprieve from standard, carb-laden party fare. Create your own signature versions! These stuffed delights lend themselves easily to various flavorings and unexpected surprises—think of your favorite ethnic cuisines and celebrate their ingredients and culinary traditions.
Garnish your creations with fresh herb sprigs, edible flowers, colorful toppings and a sprinkling of paprika or other spices. Make your deviled eggs crunchy or creamy—be as devilish as you dare.
INGREDIENTS:
12 hard-boiled eggs, cooled and peeled
5 tablespoon(s) mayonnaise (or part sour cream, creamy salad dressing or thick Greek yogurt)
1 tablespoon(s) mustard (Dijon, whole grain or flavored)
1 tablespoon(s) lemon juice (or white wine or white balsamic vinegar)
2 tablespoon(s) (or more) minced red, white or green onion (or part shallot or garlic)
2 tablespoon(s) minced parsley or other herb (tarragon, basil, oregano, cilantro, lemon thyme)
1 teaspoon(s) dry mustard (or other dried spices)
2 teaspoon(s) paprika (or part cayenne)
Salt and freshly ground pepper to taste (experiment with exotic salts and peppers)
DIRECTIONS:
Carefully cut eggs in half lengthwise with sharp knife. Remove and mash yolks with a fork, then add remaining ingredients.
Generously spoon or pipe filling into egg halves. Cover and chill. Garnish just before serving. May be made a day in advance.
VARIATIONS:
DEVIL WITH THE BLUE DRESS ON
Use blue-cheese dressing instead of mayonnaise. Omit the Dijon, but keep the dry mustard. Use slightly less lemon juice. Add green onion, minced parsley and chives and 2–3 tablespoons finely minced celery and red bell pepper. Garnish: paprika, blue-cheese bits, chives and crumbled bacon
MEXICAN DIABLOS
Flavor mayonnaise (part sour cream, optional) with canned chipotle in adobo to taste. Omit mustards, and add a scant tablespoon of tequila or lime juice, minced red onion, minced cilantro and dried oregano and cumin. Stir in a quarter cup grated cheddar (optional). Garnish: roasted pepitas, cayenne and chopped green onion
DIAVOLOS ITALIANOS
Flavor mayonnaise with pesto, roasted garlic, anchovies, sun-dried tomatoes or truffle oil. Omit mustards and use white wine or balsamic vinegar instead of lemon juice. Add onion or garlic, minced Italian parsley, basil or arugula and crushed cayenne. Garnish: anchovies, minced sun-dried tomatoes, capers, shredded Parmesan, parsley or basil
BOLLYWOOD DEVILS
Use part mayonnaise, part yogurt, flavored with 2 teaspoons hot curry powder and 2 tablespoons sweet pickle relish or mango chutney. Omit Dijon and use dry mustard. Add lemon juice, green onion, minced red bell pepper, serrano and chopped cilantro. Garnish: fresh green or dried coriander seeds or pink peppercorns, curry powder or paprika, cilantro sprig.
Á LA DIJONNAISE
Make homemade garlic or shallot mayonnaise (or crème fraîche) and add chunks of smoked trout. Use Dijon, lemon juice and zest, minced celery, parsley, lemon thyme and tarragon. Garnish: paprika, capers, anchovies, fried shallots
CZAR'S CAVIAR
Use a combination of mayonnaise and sour cream, and prepared horseradish instead of Dijon. Flavor with lemon juice, finely minced red onion and smoked salmon.Garnish: caviar or smoked salmon, minced red onion, dill.
CAJUN FIRECRACKERS
Use rémoulade sauce flavored with Zatarain's Creole Mustard and spices instead of mayonnaise. Flavor with lemon juice, cayenne, minced celery, red onion and red bell pepper. Add chopped cooked shrimp or crawfish.Garnish: cayenne, minced red bell pepper, boiled shrimp or crawfish.