I'm a cookbook author, garden and lifestyle writer, and guest speaker, as well as an enthusiastic gardener and tequila aficionada! I share these passions in colorful slideshows to audiences across the country.
I like to make everyday life a fiesta, and to inspire others to do the same–whether it's with festive cocktails…vibrant garden-to-plate dishes…or creative design ideas from my "Texican" artisan cottage and gardens.
I was born and reared in El Paso, Texas, where I learned to speak Spanish fluently and regularly escaped for travels throughout Mexico, Central America, and Europe. As a lover of culture and traditions, it's no surprise that I earned an Anthropology degree from the University of Texas.
Those early experiences, plus thirty more years of travel through Mexico, have influenced everything I do. It must be why I'm always turning everyday meals and spaces into fiestas! 
BOOKS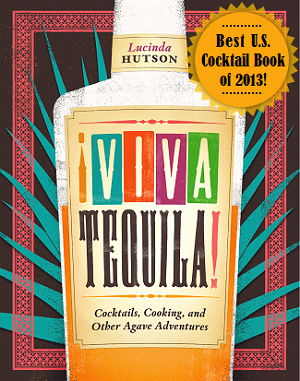 I've been writing about tequila since 1995, well before the tequila boom. In my newest book, ¡Viva Tequila! Cocktails, Cooking, and Other Agave Adventures, I share more than thirty years of experiences traveling through Mexico's agave country, as well as not-to-be-missed festive food and cocktail recipes. Gourmand International awarded ¡Viva Tequila!  "Best U.S. Cocktail Book of 2013"!
Catch highlights from the book in my guest appearances on NPR's The Splendid Table and PBS's Central Texas Gardener.
My Herb Garden Cookbook  is a complete garden-to-plate guide, with 150+ herbaceous recipes and essential organic gardening know-how. I also share creative tips for garnishing your gardens and plates with color and pizzazz!
SPEAKING ENGAGEMENTS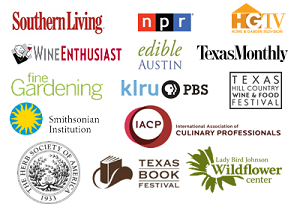 I've presented my colorful slideshows at conferences and events across the country, including the International Association of Culinary Professionals, the Texas Book Festival, the Herb Society of America, and the Mexican Consulate. To find out more about the programs I offer, click here.
I also served as "Mistress of Ceremonies" for José Cuervo's 200th Anniversary Dinners in New York and San Francisco. And I presented a tequila tasting for a James Beard Foundation dinner in New York with Austin's beloved Fonda San Miguel restaurant.
ARTICLES & MEDIA
I enjoy contributing gardening, cooking, lifestyle, and spirits features to magazines such as Southern Living, Fine Gardening, Horticulture, The Herb Companion, and Edible Austin.
My "Texican" artisan cottage and gardens–and the lively seasonal fiestas I host there–are often featured in national publications and media, including Fine Gardening,  PBS, and HGTV's "The Gardener's Diary" and "Home Strange Home", which features unforgettably distinctive homes. Take a tour of my early summer garden in this clip from PBS's Central Texas Gardener.
MY WEBSITE
I hope that through this website, you too will be inspired to add more fiesta to your life! I invite you to tour my whimsical garden, pick up a festive recipe or two for your next party…and don't forgot to connect with me on Facebook and sign up to receive email updates of new blog posts!

¡Salud, dinero y amor,
y bastante tiempo para gozarlo!
Health, wealth, and romance,
and enough time to enjoy them all!