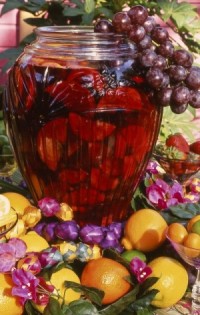 From the first sip, Sangría, simply says "Garden Party!!!" I serve it with a ladle from a pretty decorative glass jar that shows off the jewel-colored fruit within. This make-ahead party punch looks beautiful, tastes scrumptious, and delights guests.
Make it with red or white wine laced with Cointreau and brandy and flavored with juicy oranges and seasonal fruits, and top it with a sparkling splash of Spanish cava, champagne, or Squirt® (citrus soda) in glasses garnished with fresh fruit and fragrant herb sprigs.
INGREDIENTS:
4-6 oranges, sliced
1-gallon dry, fruity red or white wine
2 cups Cointreau or Grand Marnier
2 1/2 cups brandy
2 bunches long-stemmed lemon verbena and/or any combination of mint, lemon balm,
and pineapple sage
Fresh seasonal fruits, such as seedless grapes, apple slices, pear slices
Soft fruits such as strawberries, fresh berries, peaches, star fruit, and kiwis
(which should be added only prior to serving)
3 lemons, thinly sliced
3 limes, thinly sliced
Large handful of kumquats (optional)
6-ounce can frozen limeade (undiluted), to taste as needed
FINISHING TOUCHES:
Fresh herb sprigs
2 16-ounce packages frozen peaches and/or frozen blueberries
(add just prior to serving to keep Sangría chilled, or use as ice cubes)
Sparkling Spanish cava, champagne, or Squirt®
NOW YOU'RE READY TO MAKE SANGRIA:
Place oranges, wine, orange liqueur, brandy, and fresh herb sprigs in a large glass container; cover and refrigerate overnight or for several days. Add the firmer fruits 6-24 hours before serving, but do not add the lemons and limes until just prior to serving, as they can become bitter, and should be discarded if any Sangría remains to refrigerate for future use.
Pour Sangría into a glass pitcher or jar, adding freshly sliced seasonal soft fruit. If desired, sweeten with frozen (undiluted) limeade to taste. Replace the herb sprigs with fresh ones, as they will have discolored. Add frozen fruit just prior to serving. Ladle Sangría into long-stemmed glasses with a splash of effervescence and garnish with fresh fruit and herb sprigs.
CONSIDER YOUR OPTIONS:
I often make red Sangría in the winter and fall, adding a long stick of cinnamon and frozen blueberries or raspberries before serving. In the summertime, white Sangría showcases summer fruits beautifully, and frozen peaches keep it chilled.