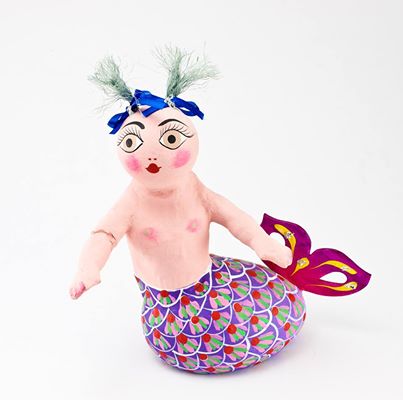 I love simple and traditional cocktails. In keeping with this month's theme, here is my recipe for Sirena's Splash (Mermaid's Splash) from  ¡VIVA TEQUILA!  Photo from book taken by John Pozdro. What would be your favorite tequila for this drink?
INGREDIENTS:
lime wedge
coarse salt (optional)
2 ounces 100% agave tequila Blanco
juice of 3 Mexican limes (reserve spent shells)
1 ounce Damiana and/or Cointreau (I like it ½ and ½)
long splash of Topo Chico or other sparkling soda water
Garnish: spent shells of 3 lime halves
DIRECTIONS:
Rim Collins glass with a wedge of lime, and twirl it in coarse salt, shaking off excess. Fill glass with cracked ice. Add tequila, lime juice, spent lime shells, and Damiana and/or Cointreau. Top it with sparkling mineral water, and present with a stir stick.